For those of you that can't watch the video, the content breakdown is below.
Content is a huge part of the internet.
It's really a huge part of everything.
Without it, everything from your favorite social media sites to the ads they show would just be empty space.
It's redefined the phrase "good job" too.
After all, we live in a society where a compelling YouTube series could literally make you millions.
That's why "YouTuber" isn't just a new career path, but also the new dream job for most kids.
But, with that many people dreaming of making it big through their content, there's a lot of noise out there.
Stats according to WorldOmeters.info 10/8/16
If you want your content to get noticed, you're going to have to make it stand out.
Remember That You Are What Makes Your Content Different
Before I get into any creative content tips, I've got to address one major thing.
Your content is already different because it's genuinely yours.
Any of the ideas I'm about to share are going to hurt you if they force you to leave behind that thing that makes your content yours.
If you can figure out how to apply yourself and your personality through these tips, however, you're going to create something that really stands out.
Especially as it relates to your brand and the effort you put into giving it life.
Remember, you want to tap into your brand's personality when speaking to your audience.
It's the connections made by its personality that will help your brand long term.
Spice Up Your Content To Really Stand Out
If you've got your brand's personality down and you're ready to step up the visibility, let's get moving.
The ideas I have for you below are going to magnify that personality and get it noticed.
While they aren't unique, your perspective of them will make them original.
It's not what they are, but the way you use them, that makes them special.
They're also specific and detailed enough to put to real use.
These strategies will make your content pop.
Click To Tweet
Get your notes out, because you're not going to want to miss any of the details.
Let's get to it.
Take Creative Risks
One of the most glaring ways to make your content stand out is to take a risk.
Maybe that means presenting your content in a risqué way.
Or it could mean choosing a stance on a controversial topic.
This tactic will almost always catch attention from social media.
That's ultimately going to get people back to your content, checking it out.
Which is kind of the point of this idea.
First, decide which risk you're willing to take.
Do you want to be controversial, or risqué?
Click To Tweet
This is a question you really have to stop and consider.
The wrong kind of either could really alienate a core component of your audience in a way that damages your business.
However, if either method fits your company, industry, or product, you could wind up drawing in huge audiences.
Once you've decided which direction you want to take, it's time to present the content.
For most small business owners, risqué is better than controversy.
You need people to understand your products more than a larger company like Oreo does.
Videos are a great way to present risqué content.
They allow you to offer all the information and context that help prevent miscommunication.
Keeping your brand's personality in mind, try to interject a little bit of humor into the content.
That's going to keep it light.
Acknowledging that you're creating something a little edgy can also help assure that your audience doesn't get the wrong idea.
Tell A Story Nobody Else Is
Finding a story that everyone else isn't repeating is difficult.
After all, when something works, most people will try to do the same.
That's what makes them so special when they get told.
But what exactly constitutes a unique story?
Does it have to be something nobody else has said?
Not exactly.
Take automobile manufacturers, for example.
Most auto manufacturers like to tout how great their cars are or how much customers love them.
They often share all the awards their cars have received.
Subaru, however, decided to do it differently.
The story they're telling is one of their customers.
In fact, it's each customer's story.
Safety, performance, longevity, versatility – the list goes on.
Subaru shares letters written by customers about their cars.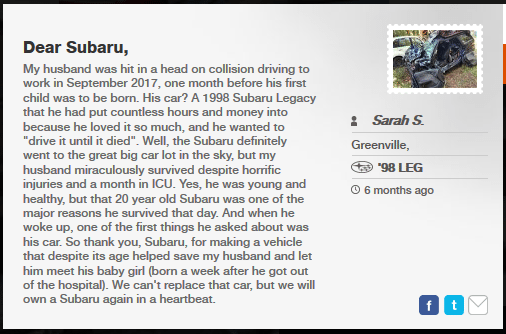 That angle – which nobody else is taking – creates a connection with their audience.
It resonates on an emotional level.
It's not the story itself that makes the story unique, it's the context.
When you share the same selling points the rest of your industry does, you can add your own unique context.
Place your brand in a different light than your competition.
When you do, your audience is going to connect with your brand in the same way.
Mix Pop Culture Into Your Information
People love content that includes their favorite celebrities, hobbies, tv shows, movies, comics, music, etc.
Popular culture is always something that people will pay attention to.
When you can find a way to mix it into your information, you've got a way to latch onto a trending topic and get seen.
Sometimes pop culture walks into your radar, like the famous Arby's tweet conversation with artist Pharrell.
Hey @Pharrell, can we have our hat back? #GRAMMYs

— Arby's (@Arbys) January 27, 2014
You can't ask for better than that.
However, the chances of something like that happening are much slimmer for most industries and businesses than they are for the major brands.
I mean, how often is a famous musician going to reflect the logo for your local mechanic?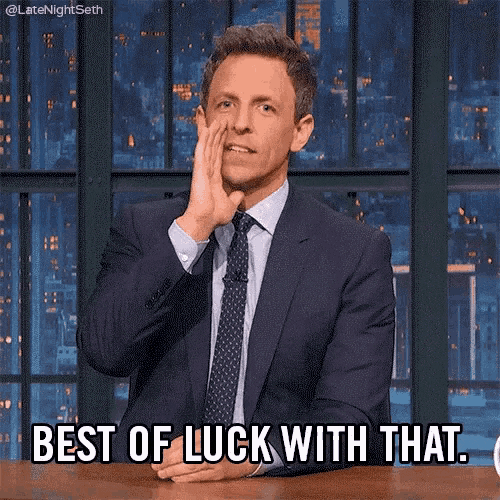 But sometimes something does walk into your industry, and you need to pay attention and be the one to take advantage of it.
The rest of the time you're going to have to walk your industry to the pop culture.
Find a way to tie in something happening in the world with the content you're sharing.
Like this post we did around the time Star Wars Episode VIII was released.
It was interesting to try to glean marketing tips from the way Daisy Ridley lived her life.
But that's just the way you move your industry to meet pop culture.
If you can figure out how to do the same, your audience will come running.
That's the way popular topics work, after all.
Use Captivating, Original Photography
Ever been handy with a camera?
Even if you haven't, it's not a problem.
Your smartphone does wonders nowadays.
And aimed at the right things, it can help you make the difference that will help your content stand out.
Unique, stunning photography can do just that.
Now, there are some important tricks to making images work their best.
Things like the direction the subject's eyes are facing or the nature of the image's background are going to change the impact.
Starting with high-quality content and coupled with high-quality photography, your content will begin to resonate.
Sometimes, the pictures you need to take need a little help.
Click To Tweet
Sometimes that means a little modification.
Grab a couple of great apps to help boost your content and see those images truly stand out.
Whether you're focused completely on your camera work or plan to use some extra editing, make sure you share an image that stops your audience's social scroll.
Learn To Ride The Latest Trends
If you've never peeked into what's trending on Twitter, you're missing a great way to help boost your content.
Twitter's trends are a clear look into the topics people are talking about right now.
That's not the only place, though.
Buzzsumo is another great place to find out what conversations are happening.
However, their site allows you to use the keywords you want to optimize for.
That means you can find out what people care about right now in your industry.
Take the time to research the trends so your content can be informed.
Once you know, you can put your latest content on the trend.
You've got two great opportunities here.
You can seek your old content that fits the trend and inject it into the current conversation.
That's a solid way to breathe new life into old content.
It's also a perfect time to update the information in that old content, which can revitalize interest in it.
Your other option is to produce entirely new, on-trend content.
New content is the right time to reconsider the way you've done things before.
Changing the way you make your content is the first step to making it stand out.
Consider the trend you're trying to latch onto, then start building an idea around it.
Include a clear indication of your brand's voice, which helps to differentiate your content further.
Flesh out your content and bring a whole new perspective to a conversation that everyone is tuning into.
They'll take notice.
Your Content Stands Out When Your Creativity Takes Charge
If you're putting all the elements of a successful inbound marketing strategy in play, you've got a firm foundation to build on.
You should also be making the most of every piece of content you produce through excellent, related microcontent.
But with the ideas we just covered, you can start to emphasize creativity in the content process.
You can also start getting it in front of more people.
Remember, it's your brand's unique perspective that's going to set your content apart in the end.
Place huge importance on building that and you'll start seeing the results you're looking for.
Was this post helpful?
Let us know if you liked the post. That's the only way we can improve.