You should be using Instagram Reels.
The latest feature from the Facebook offshoot, Instagram Reels was recently introduced to compete with TikTok.
Like it's rival, Reels is a short video platform featuring 15-to-30-second videos and a robust soundtrack of licensed audio.
Instagram debuted it in response to the overwhelming popularity of TikTok.
In a way, Reels is to TikTok what Stories was to Snapchat a few years ago.
However, the battle between the two platforms has just begun.
When one comes out a winner, you need to be sure your brand is represented on it.
And the only way to make sure that happens is to start using Instagram Reels for your business.
I'm going to share everything you need to know to add the new IG platform to your repertoire.
Dropping TikTok Content On Reels Isn't Using Instagram Reels Correctly
One of the common suggestions I'm seeing a lot of is to add TikTok-based content to Instagram Reels.
While that may sound like a great way to streamline your content, I have to advise against it.
Even though Reels is meant as a direct competitor for TikTok, the two platforms don't share an identical aesthetic.
The most effective way of using Instagram Reels is to create content exclusive to the platform.
By duplicating your content across both platforms, you create no incentive to follow your company in both places.
Why use two platforms to see the same content?
When one of the platforms eventually beats the other, your audience there will be damaged.
However, by creating content unique to each platform, your audience has a good reason to follow both.
Now, when only one is left, you're sure to have an audience there waiting.
Choosing to create unique content on each platform – even if that content is similar in style and feel – allows you to build the same audience on both platforms, assuring your brand is prepared no matter which one wins.
Click To Tweet
You can create similar content on each platform if you like, thereby giving your audience the same reason to follow you on both networks.
Just make sure what you're doing in each place is unique.
How Does Using Instagram Reels Differ From Other Options?
Let's start by identifying what Instagram Reels is.
Debuted in August of 2020, Reels is Instagram's response to the rising popularity of TikTok.
Touted as a feature to create similar content from within Instagram, users can record 3-to-30-second videos to their feed.
Instagram learned from their mistakes with IGTV and built Reels directly into the Instagram interface.
Like stories, Reels is simply a different "mode" within Instagram's camera.
Using Instagram Reels mode opens an editor that allows you to add licensed music and sounds, as well as filters inside a robust video tool.
With Instagram Reels, a whole world of options were added to the Instagram platform that allows you a unique way to gain exposure for your brand.
Click To Tweet
Reels videos are filmed in portrait mode, can be filmed as a continuous video or "stitched" from a series of takes, and uploaded only from your mobile device.
Alternatively, you can upload directly from your device's camera roll instead of filming in-app.
Because they show up in your regular content feed, you've probably seen them even if you hadn't already noticed.
The icon in the lower-left, much like IGTV, is what lets you know they're a Reel.
Additionally, Instagram has added a Reels button to user profiles and a Reels-specific feed on the Explore tab.
With all that in mind, you might wonder what makes Instagram Reels different from the other options available.
Reels vs. TikTok
There are some obvious similarities between TikTok and Instagram Reels.
They are direct rivals, after all.
Both platforms are meant to be creative spaces for users to produce and share short videos with their audience.
Each contains the same basic functions, even though the user interface varies.
Looking at the two, it's pretty obvious the differences.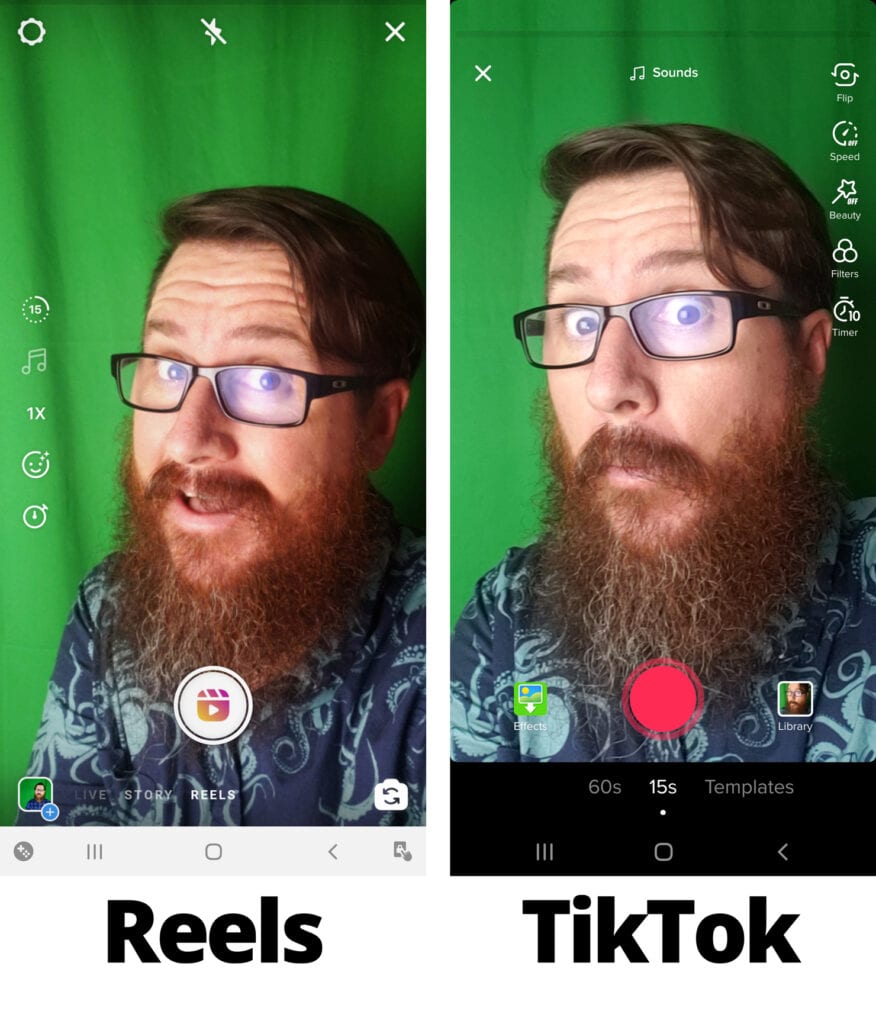 And, if you're used to one, it might even be difficult to tell where the same function is on the other.
But both have tons of options to help you make your videos as creative and enjoyable as possible.
However, as competitors, they have important differences that should inform the content you make for each.
While Reels is a feature inside the robust Instagram ecosystem, TikTok is a standalone platform.
Using Instagram Reels, users can make videos up to 30-seconds long, while TikTok videos can be up to a minute.
When you share Reels to your Stories, they only remain for 24-hours, but TikTok keeps them all up.
Currently, Reels doesn't support local file uploads, except ones that come from the camera roll, nor does it support duets.
TikTok offers both.
TikTok and Reels may have the same features in the future.
Until then, consider those differences as you create content for each platform.
Reels vs. Stories
You might ask yourself why Instagram would bother creating something that was so like a feature they already had.
However, just a few minutes using Instagram Reels and you'll notice the differences.
Those differences are pretty significant.
Unlike Stories, Reels offers several advanced editing tools.
AR effects, video speed controls, clip alignment, and background audio are all available in a way that Instagram Stories doesn't offer.
Reels is also shareable to both Explore and Stories, and you can add them to your Feed.
Plus, Reels gets a section on your profile, just like IGTV does.
Including your original audio in your Reel, like the words you say or music you have playing, adds to the Reels audio library, too.
The sound is attributed to you, then made available for other users to create new Reels from.
That leaves a lot of options for creativity in your Reels content, helping you create something your audience is more likely to enjoy.
Using Instagram Reels With Ease
Since you're likely new to Reels, you may not know how to use the feature.
However, if you're familiar with Instagram's platform, using Instagram Reels is easy.
To find the feature, head over to your Stories camera and click the "Reels" selection at the bottom.
From there, you'll get the Reels interface and you can start producing your content.
Let's go over the different steps.
Making A Reel
There are two ways you can produce a Reel for your brand.
For the most basic option, you can record your video from within the Reels camera.
Alternatively, you can upload video from your device's camera roll.
You have the option of using several recorded or uploaded clips to make your video, or you can record it all in one take.
Using Instagram Reels to make a short video takes a few steps once you're in the Reels camera.
First, look at the tools on the left.
In order, you'll find Audio, Speed, Effects, and Timer.
The Reels tools will help you make your Reel more creative.
Select audio from the library and choose which portion you want to add, record in fast or slow motion, add AR effects, and give yourself a recording countdown and length.
The Reels interface is similar enough to TikTok that, for those who have ever used TikTok, navigating Reels and using it to make content should be easy.
Click To Tweet
Once you've got your settings the way you want them, tap the record button, and begin your video.
Tapping the record button again ends the clip, and another tap will start recording the next one.
You'll get an Align button under your tools that will allow you to line up with the end of your last clip so things are in the right spot.
It helps with creating seamless transitions.
Trim the clip you recorded by tapping it.
Now, just like Instagram Stories, you can add creative drawings, stickers, and text.
When it's decorated the way you want it, you're done!
Sharing Your Reels
With your first Instagram Reel made, it's time to share it.
Hit the "Next" button on the editor to take you to the Share page.
Here you can write your caption, change your cover photo, and choose whether you'll share it to your Feed.
You can also choose to share on your Stories or save the Reel as a draft.
Some things to note:
Choosing to share to Reels adds your Reel to the Reels Explore page and a Reel page on your Feed.
Reels will show up on your Grid by default but can be removed from it without removing the Reel.
Using songs, hashtags, and effects can bring up your Reel in feeds for those items.
Your original audio can be used by others and will create a related feed.
Instagram gives you the option to add a cover photo from your camera roll.
After you've decided how you want to share it, click the "Share" button.
Then you're done!
Finding New Reels
Now that you've added your first Reel, you may want to watch a few to see what others are doing.
You have four options for finding reels to watch.
Using Instagram Reels is more fun when you take some time to enjoy the Reels other people add.
In Your Feed
Whenever anyone you're following posts a Reel, you'll see it with all the other content.
However, if you aren't careful, you might not notice the difference.
Reels have a small icon in the bottom left that identifies them.
Tapping on that icon (the same way you would for IGTV) brings up the Reel in full portrait mode.
From there, you can swipe up the same way you would on TikTok to see more Reels.
In The Explore Tab
From the explore page, which you should be familiar with by now, you can find more Reels to watch.
Notice that there's now a large video at the top of your Explore feed, and it has a Reels icon in the lower left.
Clicking that brings you to the Reels Explore feed.
Again, once you're watching a Reel, swipe up to see more.
On some videos, the word "Featured" will appear above the username.
That means Instagram has selected this Reel to get more exposure.
If your Reel gets featured, Instagram will notify you.
In Audio, Effects, Or Hashtags
If you're familiar with Instagram, you know that hashtags can get you everywhere.
And, because you can include them when using Instagram Reels, you can also search for Reels with them.
Just click on a hashtag and you'll get a feed of Reels that use the same one.
You can do the same thing with featured audio as well.
That takes you to a page where others have recorded Reels using that audio.
It also gives you the option to use the same audio.
And, when an AR effect is featured, you can click that effect to see others who use it or use it yourself.
In Search
As always, Instagram's search feature can find anything you want.
Pulling open your search tab, you'll search for any hashtag, user, or keyword you want.
(Remember that it doesn't have to be a hashtag for the Instagram search to find it.)
In your search results, you'll get the same mix of videos, images, and IGTV.
But you'll also now see Reels added into the mix.
That will bring you the Reels related to your interests.
Some Great Strategies For Using Instagram Reels
Reels isn't the first time that Instagram has gone head-to-head with the biggest social media threats.
Since Facebook bought the brand, it's been Zuckerberg's ace-in-the-hole, if you will.
He's consistently released features to help him tackle any social network he couldn't buy.
In 2016 Instagram launched Instagram Stories, which was quickly scoffed by news outlets and critics as a Snapchat knock-off.
However, the platform quickly surpassed Snapchat in popularity, proving that Instagram was once again a place to build your brand.
And many small businesses missed the chance to succeed early because of the criticism.
They didn't jump on board to build their audience, which was a mistake.
If you're one of them, you don't want to do the same here.
You'd be a fool not to tap into Reels as early as you can and build the audience that's waiting for you there. If you have the resources to add another form of content, Reels should be a priority.
Click To Tweet
Those who aren't shouldn't risk becoming the next wave.
This is a chance to get in early, using Instagram Reels to engage a new breed of audience.
Instagram Reels users are looking for quick, easy to digest content that's got something worth watching.
It's a chance to experiment with your content and find out how to draw in new followers.
Don't forget that Reels lives on the explore page, too, which puts your content in front of more than half of Instagram's users every month.
Any time your Reel makes the explore page you get a huge dose of exposure.
So, if you're ready to start using Instagram Reels, here are some things to try.
Make Quick, Entertaining Clips
Think about all the content you've seen on TikTok.
Or, if you haven't used TikTok, check out all the content available on Reels already.
People using Instagram Reels want entertainment.
It's obvious as you look at what's working.
Your goal is to make the content you produce entertaining as well.
That can range from showing off the fascinating process of manufacturing your product to participating in goofy challenges with your office staff.
If your content can make people laugh or fascinate them and it's related to what you do, you're going to win on Reels.
Click To Tweet
Whatever you do, make sure it's something that you already know entertains your target audience.
If you're not certain what that is, you have two choices.
One option is to look at what customers who work with you find most fascinating about your brand and make videos featuring that content.
Should you lack that option, your other choice is to try different things until you find what works.
Viewers using Instagram Reels aren't too shy to let you know if what you're doing is a hit or miss.
Drop Fast, Educational Tips
Every content format is another chance to create content that nurtures your leads.
Instagram Reels is no exception.
Create Reels that educate your audience on your industry, your company, and the problems you can solve.
Challenge yourself to create 30-second educational videos about your industry.
Offer a 15-second fix for something your clients tend to have problems with.
Regardless of the way you educate your fans, using Instagram Reels as a source of education can help your audience engage more.
People want to know how to make their lives better. Addressing their pain points and providing solutions helps them do that and keeps them coming back to your content.
Click To Tweet
Providing them with real value, you're also working to build trust and loyalty with them.
If your content shows them how to handle something that your expertise can explain, you can be sure they'll follow you for more content.
As their trust in your content and your brand grows, they'll work their way towards the purchase.
Share A Quick Product Showcase
People love to see how your products work.
However, when you think about most demonstration videos, they're long and boring.
What if you were able to demonstrate a function of your product or a benefit of your service in less than 15-seconds?
There are ways to make that far more entertaining.
Instructional videos don't have to be so boring, and the tools that Instagram Reels offers allow you to make yours into something fun to watch.
Click To Tweet
Coupling fast-motion recording with a great audio track and possibly a voice-over, you can demonstrate something about your product quickly.
Add in some clever editing and you've got yourself something a little more entertaining.
Captivate your audience by transforming a boring instructional video into a whimsical, fast-paced clip meant to help you sell.
With a little creativity and the robust editing tools you get by using Instagram Reels, you can earn an audience interested in what you do.
Get Behind-The-Scenes
When all else fails and you can't come up with anything creative enough to share, share what's happening in your office.
The day-to-day routine of running your small business may not be exciting to you, but your audience may find entertainment in it.
You can capture your team's hijinks or ask them strange questions that get odd reactions.
Show off what you do on a day-to-day basis.
When you can help your audience get to know your team you help to create friendships. Friends don't quit on each other, which means your audience is more likely to become your client and stay that way longer.
Click To Tweet
Introduce your Reels audience to members of your staff through 30-second team interviews.
Try combinations of all of the above.
Whenever you find a way to integrate using Instagram Reels into your everyday work you can capture the spirit of who your team is.
That allows your audience to develop a better relationship with them, building the loyalty that keeps them with you.
Using Instagram Reels Can Catch New Attention
The most important thing about using Instagram Reels is that the audience you draw in doesn't want the same old Instagram content.
They want brief and easy to watch videos that entertain them.
You get an opportunity to reach a whole new group of people just by adjusting.
But your biggest impact comes from becoming an early adopter, building your audience before your competition gets there.
If you do, you're sure to see more growth than ever.
Was this post helpful?
Let us know if you liked the post. That's the only way we can improve.