This is Episode 18! Join Visceral Concepts Founder Michael McNew as he shares 15 marketing strategies your small business can use immediately to start boosting visibility!
[soundcloud url="https://api.soundcloud.com/tracks/474540345″ params="color=43b649&auto_play=false&hide_related=false&show_comments=true&show_user=true&show_reposts=false" width="100%" height="166″ iframe="true" /]
You could use more customers, right?
You're a small business, so that's a dumb question. Of course, you can.
What if you had some better ways to pull from the huge internet userbase out there? That would be helpful, right?
You do understand just how big that number is, right? At the date of publishing, that's nearly four billion people. With a B.
And it's growing.
In fact, as of 2017, marketers are spending more on internet advertising than they are on television by about $31 billion dollars. By 2022, it's expected to grow to a $54 billion-dollar gap.
Marketers are spending more on internet advertising than they are on television by about $31 billion dollars.
Click To Tweet
That growth isn't unwarranted. Nobody spends that money without a reasonable return.
That means it's time to look at strategies that can get you a piece of the pie.
Today, I've got 15 different ideas for you to put to use immediately.
It's Important That You Don't Limit The Strategies Your Small Business Uses
As a starter, there's something important to point out.
There is no super solution. Every business needs to experiment to find what works.
That's why you need a number of marketing strategies in your small business' arsenal.
As we discuss these different strategies, it's important you don't rule any out. If you're not using one of them, it's worth adding to your plan.
If there's one you're using, it might be time to make a few improvements to it.
The more strategies you test, tweak and collect data on, the better your odds of success.
The more strategies you test, tweak and collect data on, the better your odds of success.
Click To Tweet
The main goal of your marketing strategies is to get your message and the value your company brings to your target market.
That might look a million different ways, despite the simplicity of the concept. It depends on a few things.
Your audience's demographic
Their location
Their favorite online haunts (social media, forums, blogs)
The way they search for your products
The input they listen to when making decisions
These factors are all going to affect the outcomes of your marketing strategies. That means different strategies will have different outcomes for every business.
That's a great thing, by the way.
That means you get to influence – quite heavily – the outcome of your marketing strategies. You just need to use the data to your advantage.
You get to decide which strategy is going to be worth your efforts because every one of them will have a level of impact.
But at the same time, not every strategy will be a fit. A combination of your audience profile and your own abilities may make any particular strategy useless for you.
Obviously, I can't come up with the perfect strategy for your business. That is, not unless I meet you and get to know your business and your audience intimately.
You can, however. That's because you know your business, your audience, and your abilities.
That's why I laid out these strategies with the intent to spark ideas and make you aware of the marketing strategies that have done well.
Take Advantage Of Multiple Proven Strategies To Market Your Small Business
I've got 15 marketing strategies for your small business that have been proven to work.
Again, they won't work for everyone, but they have worked on a broad enough spectrum that they're worth looking at.
They're also pretty basic to manage. They don't take a ton of time or a rare skillset to put in place.
Other than maybe your ability to collect and process data on them.
Ready to dig in? Let's go.
Start Your Blog
Am I a broken record?
By now, you ought to know that your failure to blog is making your business miss out.
Blogging is one of the most basic online marketing strategies a small business can include.
It's simple, as long as you know how to create content. It just takes a smart strategy.
I mean, do you have any idea how many people are reading blogs nowadays? It's a lot, and you need to get in on the action.
After all, blogs are the 5th most trusted source of information on the internet. That means the information you provide is going to weigh heavily on your audience's decision-making process.
If you don't already have a blogging option built into your website (which you should), you can head over to WordPress.com or Blogger.com to create one.
Pro Tip: Be sure to drop your contact information into your blog so your audience can find you.
Click To Tweet
Blogging serves as a great foundation for most other forms of online marketing. That gives it extra weight on this list, and it's why I mentioned it first.
The statistics about blogging don't lie. Blogging improves several basic online marketing tactics that you're already familiar with.
It's critical for SEO.
It establishes your authority.
It creates an incentive for lead conversion.
Needless to say (which always means someone is about to say it), you need to start blogging now and master it as quickly as possible.
Build Your Social Presence
There's little online that you can do without a social presence. It sounds dumb, but social media is a sort of verification that your company exists.
That's what makes it the second foundational marketing strategy for your small business.
Social media is really the gateway to everything else on the internet for most people. It's somewhere you have to be.
But consider some real facts. Facebook alone has more users than any given website on the internet, making it the most likely point of the first contact between you and your audience.
To avoid that kind of potential audience source is stupid.
Twitter, on the other hand, is a great place to connect with people who, you know, have money to spend. 56% of Twitter's user base makes over $50,000 per year.
That's pretty impressive for a site that boasts such a young user base, with 36% of them between the ages of 18 & 29.
That's not to mention the benefits of every other social network out there.
Social media is the main tool you're going to use to get in touch with your audience.
Social media is the main tool you're going to use to get in touch with your audience.
Click To Tweet
It's also one of the best content distribution channels around.
Social media provides a unique opportunity to share content with your audience and get immediate feedback.
Social media is the crossroads of all your internet traffic.
Reach Out Through Email
I love email marketing.
What better way to connect with people than the one place they look every day?
In fact, customers prefer that a company communicate with them via email. 72% of them.
That's a great thing when you want leads to come back to you.
Remember, only 2.6% of visitors will buy on the first visit. Getting them to come back is critical.
Calling them back via email – both communicative and transactional – will not only improve their return rate but will also increase their spending.
Using emails correctly will provide you 12% more income per client.
It's such a simple thing to do correctly, too. Much of it can be automated.
That's the great thing about a quality email provider or CRM. They offer you all the software you need to customize your emails to fit your clients.
Once you've built a list of qualified leads, all you have to do is communicate.
Use Facebook Ads
When it comes to Facebook ads, the real estate is still dirt cheap.
Here's the thing; Facebook is the only place that can market and sell for your business.
Why? They offer everything you need to target the right people your business sells to, and they offer it for next-to-nothing.
Facebook knows us better than our friends and family do. In some ways, that's a little creepy.
But it also gives the platform a unique ability to directly target your perfect customer.
You can target your ads incredibly specifically. Geographic region, age, gender, occupation, and even similar pages are all things you can use to target your ads.
That means your money is always directed at the right people (provided you know your audience well).
Facebook is also great at helping you target a specific goal. Whether you want to increase a particular post's views or get more people to your site, they tailor their calls to action for exactly what you want.
They're pretty good at customizing your ad for you.
Now stop and think for a moment. When's the last time you really noticed a Facebook ad?
Sure, they identify every paid ad with the word "Sponsored" added to the top, but the ads are otherwise no different from any other post.
They're always relevant, unobtrusive, and fit completely into the user's browsing experience.
And that's why they work so well.
When you can inject your advertisement without disrupting the user, they're way more likely to pay attention to it and remember it.
That means you're going to get a big impact on a very low ad spends.
Open A Facebook Group
Speaking of using Facebook without spending a ton, have you checked out how useful Facebook groups are?
If you've ever spent time on Reddit or Tumblr, you'll be familiar with the format. These are user-administrated forums for like-minded people.
Without being spammy (people hate that), groups are a great place to spread your marketing messages.
More specifically, they're great places to share that blog content we talked about.
With memberships that range from 1000 to 100,000 people on average, Facebook groups are ripe with potential customers.
Sharing valuable content among an audience of people who are interested in your niche that's that large is a great way to expand your audience.
By managing your own group, especially one custom-tailored to the specifics of your own niche, you can custom-build the right audience.
Live Stream With Your Audience
Remember when we recommended Periscope?
It was clear to us nearly 3 years ago that the idea of live streaming with your audience would be a good idea.
Now, platforms like Facebook, YouTube, Instagram, and Twitch all offer live video service.
They realized that the idea of an unrefined, live feed is something that people are interested in.
More importantly, businesses have realized that a live video broadcast is something that can connect them with their audience.
Some face-to-face time is a great way to expand your audience and build some trust.
Unlike pre-recorded video, however, the live stream takes a bit to master. You have to be way warier of the fact that your audience can see everything that's happening.
Look, 20% of the videos on Facebook are live, and the trend is growing.
Imagine hosting a party similar to the old-school Tupperware parties. However, there are a few major improvements.
Nobody has to come over.
You don't need to provide food.
Your friends from around the country can join in.
There's no mess when you're done.
Live streams are a great way to get the crowd together, get them excited about something, and get immediate feedback.
There are tons of ways your business can use these live videos to connect. Some suggestions include:
Host a Q&A session.
Put on a webinar.
Have an online product release party.
Host a raffle.
Broadcast the festivities of an in-house event. (Grand opening, anyone?)
Basically, any time you can either share excitement or directly communicate with your online audience is a great time for a live stream.
Since it doesn't usually take more than a smartphone to do, you can start broadcasting to your audience for little to no money.
That's the kind of marketing strategy most small business owners like. Free.
Couple that with the release of new blog content and you'll create a favorable engagement loop that will boost your search rank.
Added bonus!
Create A YouTube Channel
Video content catches people's attention.
It's kind of ridiculous, in fact.
As it turns out, more than 500 million hours of video getting watched on YouTube every day.
It might seem crazy, but people love video content like nothing else.
It's about time you get your content into that mix.
See, nearly 75% of all internet traffic is video.
Infographic by IGW
YouTube is the largest source of video on the internet, and it's the second largest search engine.
That means people are going to see the video content you share regardless of how well you distribute it.
If you use the right kind of video, you'll get more than just a new audience.
Hard number time:
90% of consumers think video content is helpful when they've got to make a decision

Infographic courtesy of VidYard
Ok, enough statistics. Video has a ton of benefits. I think I've made that clear.
So what could stop you from making video content at this point?
Don't tell me the equipment.
If you've got a smartphone and an app store, you have everything you need.
Get On Google MyBusiness
Let's jump it back a bit to a more basic idea.
Get your business on Google's MyBusiness.
Seriously. I can't believe I need to mention this.
Look, Google has to be able to give your target audience the best information possible.
Google MyBusiness is the listing of basic contact information, operating hours, reviews, pictures, and location of your business.
It's what shows up on the right side of the page when someone searches your business by name.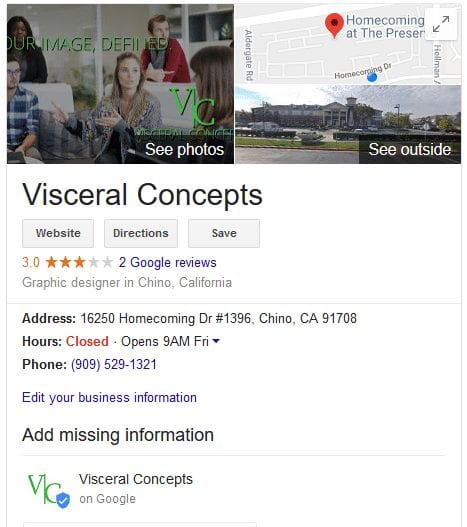 And it's in your control.
Aside from someone directly looking for your business, Google is going to use this information to fill in a map with a "Near Me" search.
Try it. Go to Google and type in "Pizza places near me."
Your results will vary from mine, but they'll look a lot alike. There should be a map with the closest results.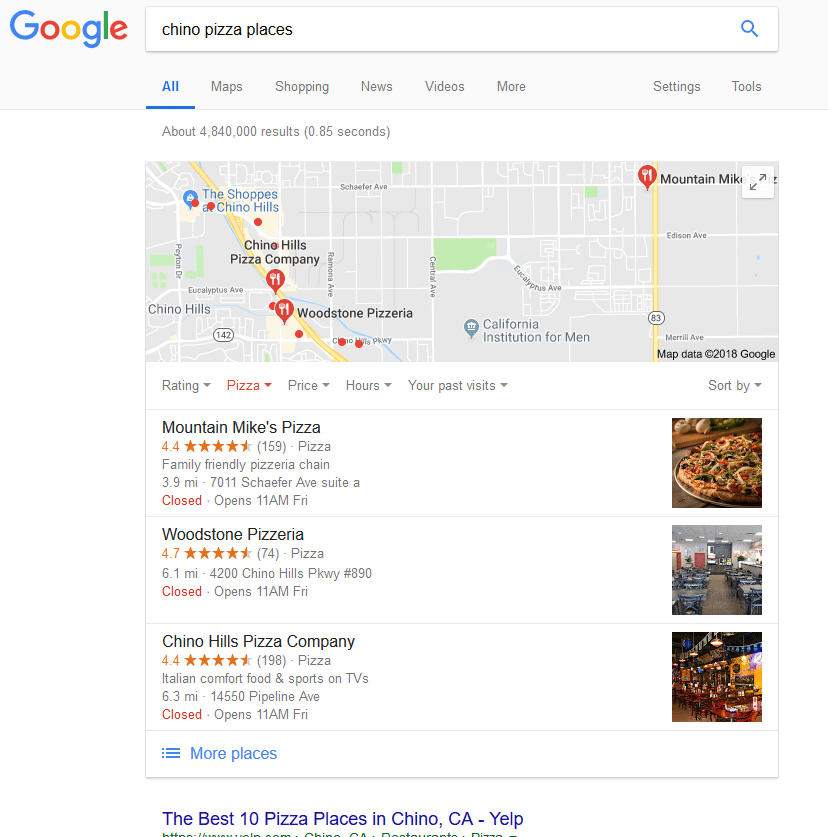 If you want people to find your brick and mortar easily, you can see how this is going to help.
Plus, Google MyBusiness has all sorts of neat tools to help you analyze your web traffic and find ways to improve.
Yeah, that means your blog. Again.
Google is grabbing data from all your Google platforms and combining it into a great interface for you to work with.
It also gives your business instant credibility.
All you have to do is optimize your GMB profile and start getting your customers to leave you a review.
Simple, right?
Encourage Your Customers To Share Stories
User-generated content is gold.
If you're not familiar with what that is, it's the content that comes from your customers instead of from you.
When someone gets their hands on your product and creates a review, that's user-generated content.
So are testimonials.
So is all that cool social media content that you can get your audience to create with the right marketing tactic.
Some of the most impactful things your users can share are the stories of working with your company.
Take Subaru's "Dear Subaru" campaign. Customers write in with their Subaru stories, sharing the reasons they love their car.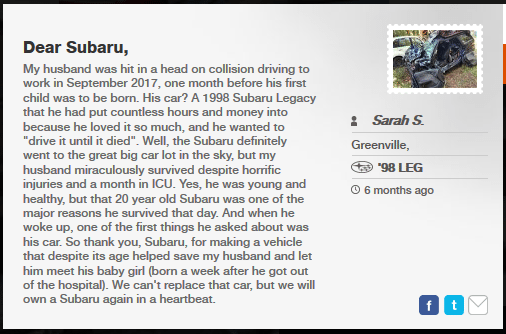 It works because it builds emotion.
If you can encourage your customers to share their stories, your audience will be able to relate.
People buy on intuition, but it's communicated to them emotionally. The only way to influence intuition is through emotion.
I think you're starting to see the connection.
The other benefit to customer stories is that it's someone else talking about how great your company is.
Consumer opinion drives most people's purchasing decisions.
That's especially true on social media, where a peer referral can increase the likelihood of someone buying by 71%.
Graphic by Hubspot
Share those stories in full detail on – you guessed it – your blog. Then make sure you offer microcontent from that story via social media.
Services like SurveyMonkey can help you offer an incentive for that feedback, plus you can get tons of extra input from your customers.
Share Your Comments On Relevant Content
You know others in your industry write blogs, right?
A good way to make yourself known outside your own audience circle is to give your feedback on what they wrote.
This one is actually pretty simple, but it requires that you have some content of your own, first.
(Hint: I'm talking about your blog again.)
Here's what you do:
Find a blog from your industry
Choose an article you have an opinion on or reaction to
Share your thoughts with detail
Give helpful knowledge within your feedback
Link to related content
Just don't make it spam!
Seriously, you have to give them something real. You can't automate it and you can't half-ass it.
Click To Tweet
Seriously, you have to give them something real. You can't automate it and you can't half-ass it.
If you can steer your feedback towards your content while still being genuine, you'll be able to lure in a new audience.
Bloggers really enjoy receiving comments, too, as long as they're legitimate.
When you comment on a blog post with helpful information, the author is likely to actually read it, which gives you more opportunities for networking and conversation.
More comments create more brand awareness.
Check out sites like Quora and Alignable as well. These sites feature the ability to ask questions and have them answered by experts.
If you're one of those experts, you'll draw attention to your business.
Thankfully, it works just like blog comments do.
Give helpful answers to the questions, then link to any related content.
It's also a great way to find out what content you should create next.
Guest Post On Industry-Related Blogs
Let's take blog commenting to a whole new level, shall we?
The guest post is a great way to get your name and expertise out to entirely new audiences.
It's a little like commenting, except you're the expert with all the information.
By getting in touch with bloggers in your industry (like you might by commenting), you can develop relationships that turn into guest posts.
A guest post means you're going to make content for their site.
It's a big deal that you do it right, especially your first few. Getting this wrong could eliminate it from your strategy entirely.
Guest posting has to do some specific things. It should:
Get more traffic from their stronger SERP rankings.
Promo whatever content you're focused on.
Build a great relationship through reciprocation.
That last one is the key to your continued ability to guest post. If you can't get them something, they won't let you back.
Do that enough and you'll have a reputation.
But if you create value for your host blog and their audience, you'll see increased exposure.
Infographic by MyBlogGuest
Help A Reporter Out
If you really want to be an expert, get publications to come to you for information.
There's a website out there called HelpAReporter.com. They connect reporters with sources.
When you sign up, they'll start sending you 3 emails per day. Every day.
Inside those emails, you'll find information requests from reporters in tons of fields.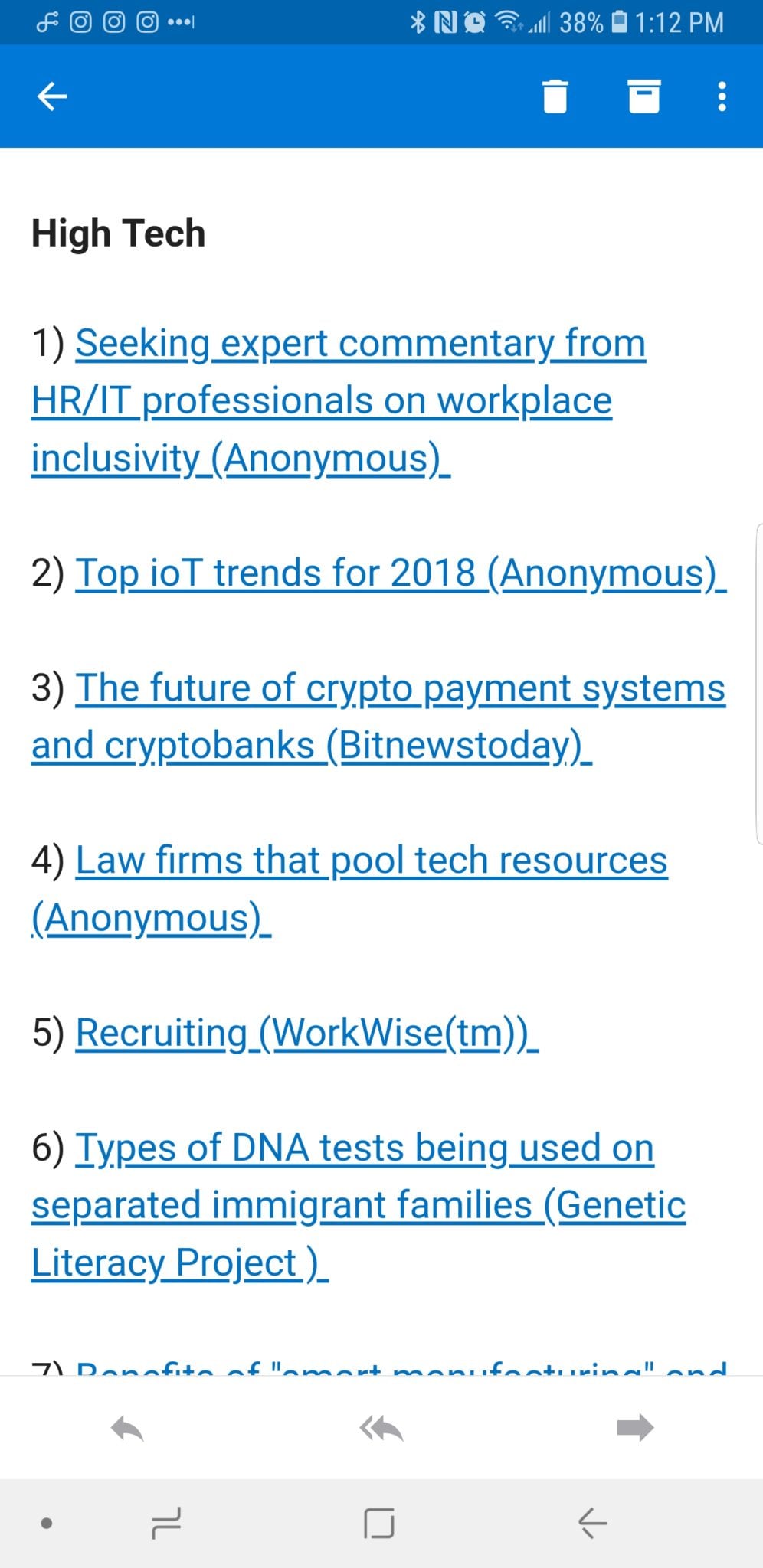 You won't find something in every email. However, they're frequent enough that you should be able to find something at least monthly.
If you find a topic you think you can answer on, follow the site's instructions for replying.
With luck, that reporter will want to speak with you, which puts you in a publication for free. As an expert.
Kinda like when I was featured on Rankwatch.com.
Having your expertise referenced by the media is a great way to build credibility.
It also happens to expose you to a wider audience.
While there is no guarantee you'll get selected just because you respond, that doesn't mean you shouldn't try anyways.
After all, one good lead can make any marketing strategy worth your time.
Consider Coupon Deal Sites
Normally, I don't advise discounts as a way to bring in new business.
However, sites like Groupon have a large user base. Used intelligently, it could expose you to a whole new market.
Part of the benefit from these sites is the number of people who use them.
The sites group them by location, too, so you can geotarget those local to you.
Most of these sites require a huge discount on your product (like 50%). You're not going to grow with these sales alone.
You've got to up-sell to make an early profit and do a great job of retaining customers over the long-term.
You've got to up-sell to make an early profit and do a great job of retaining customers over the long-term.
Click To Tweet
With luck, you'll also get a bunch of visitors who don't buy but add themselves to your email list.
You have that blog going, right?
Now, there's a big warning to go with coupon sites. Coupons can go viral.
You can't afford to miscalculate. You have to know exactly what this is going to cost you and how much you can handle.
Don't forget, the first step to retaining customers is to give them the best service. During and after your deal, your customer service team needs to be on it.
As long as you do your homework, this marketing strategy can work out well for you.
Host An Online Scavenger Hunt
Earlier I mentioned user-generated content. This sort-of boosts that idea.
What if there was a way to get tons of people tagging your page on social media?
Contest entries are great ways to do that.
An online scavenger hunt can be a fun way to get people engaged with your brand.
Here's the idea:
Announce the hunt and give the first clue
If they solve the clue, they need to post a picture of their answer
They need to tag your page and use your hashtag for the entry to count
When someone is correct, you release the next clue
The last clue should reveal something special

A discount
A free item
A big announcement
Use your imagination to make a scavenger hunt come to life.
You don't have to limit it to scavenger hunts, though. Any contest can work.
The point of what you're doing is to push engagement with your social networks.
Bonus points if some of your hunt items are found through your blog.
Write An Ebook
People lend a ton of credibility to authors.
In fact, they also often lend a platform, as well.
As a published author, you get offers for speaking gigs, time with the press, and other publicity you couldn't otherwise get.
The best part about writing a book is that anyone who has spent substantial time blogging has the information they need.
Look, it cost you nothing more than time to self-publish an ebook.
I talked about the potential traffic strategy in-depth in a previous article.
Regardless of the traffic strategy, however, the fact that you have a published book demonstrates your knowledge.
The fact that you have a published book demonstrates your knowledge.
Click To Tweet
Your book doesn't even have to be that long. 150-175 pages are great. Even a 75-page book will get the job done.
Include pictures if you're afraid you can't write that much.
Having published author status is evidence that you know what you're talking about.
That won't get lost on your target audience.
Small Business Marketing Strategies Are Plentiful.
The truth is, there are tons of ways to market your small business.
If you have a little creativity and a lot of ambition, you can start getting attention pretty quickly.
But what you can't do is avoid marketing your business online.
That's just company suicide.
Small businesses have to make their online presence known. It's critical to success.
It also happens to be easy on the budget. And that's what we all want.
Was this post helpful?
Let us know if you liked the post. That's the only way we can improve.