Blogging falls at the center of a strong digital marketing campaign. It's the living, breathing attraction that drives visitors to your website. When you're doing digital well, most people won't come to visit your homepage, but will instead visit one of the many fresh, relevant, informative blog posts you've published to your site.
But if you aren't seeing the traffic you want from your blog, or you haven't started blogging yet, you may not be sure what to do. I mean, blogging has a lot of working parts that cover important aspects of your digital strategy. How do you balance SEO, lead capture, and creativity without sacrificing frequency and quality? It can be hard.
Today, I want to put your mind at ease. I am going to give you 6 actionable strategies you can use to start achieving all the goals you want with your blog.
Blogging Strategies Are Great, But They Require Your Effort
These strategies I'm going to share will help you boost your traffic and establish your blog as an authoritative source in your industry. They will help you prove your position as a thought leader and ultimately help you build a great foundation for your digital marketing and your content strategy.
I have no doubt that putting any one of these strategies in place will provide better results from your blog. However, there is a catch.
There isn't a blogging strategy I can recommend that's going to work if you don't have your priorities in order or you aren't willing to put in the work. That warning shouldn't need given, but there have been countless instances where I have been asked why a client's blog wasn't working. The answer is almost always "Because you didn't do all the work."
There isn't a blogging strategy I can recommend that's going to work if you aren't willing to put in the work.
Click To Tweet
If you want your blog to be successful, you need to choose excellent content, prioritize quality over SEO, and stay consistent. If you can't manage these three principles, there is no strategy that will help you.
These 6 Blogging Strategies Will Boost Your Audience, Authority, And Attention
Well, if you've stuck with me this far and have decided you're ready to commit to making your blog a success, I commend you. Now it's time to get into the grit. You might want to eliminate any distractions while you read this. These are real, actionable strategies, not just theory.
If you're ready, let's get to work.
To Get More Engagement, Write Long Blog Posts
I'm starting with this blogging strategy because it's the most far-reaching and impactful of everything I have to share today. It's also the most counter-intuitive, which warrants it the most explanation.
People are generally averse to writing long blog posts. There are a lot of excuses as to why, but I'm pretty sure the real reason is laziness. No matter what your reason for not wanting to write long-form is, you need to throw it out. Long-form blogging is the most beneficial kind. Period.
According to Buzzsumo, the longer the content is, the more likely it is to be shared. Look at that chart. The most shared articles had over 3000 words. That's more opportunities for great SEO, and more value-added to the content you create. Even though people tend to have short attention spans, this is working across the board.
It's also a great opportunity to beat your competition and stand out among the noise. There are 16 articles with less than 1000 words to every long-form article you come across. That means most of the blogs your competition produces are just noise. Having long-form content helps you breakthrough.
Longer posts provide more opportunities for backlinks and leads, as well. That makes your content more relevant for more time. They call that "compounding content" and it just keeps producing benefits over the long-term. Think about it this way; the more time you spend producing the content, the more you'll get out of it.
The length of content generally results in more information. As long as it's good information, that begins to demonstrate that you are an authority on the topic. You see, it takes work to find the right information. By demonstrating that you have all the information they'd be looking for, they don't need to go anywhere else. You become the best source on the topic.
Let's not forget that the more you add to your blog, the more microcontent you can pull from it. Remember that quotable bits of your blog can be shared out to social channels. By taking the time to create longer, more informative content, you offer yourself a broader library of content to pull and grow from.
Remember that quotable bits of your blog can be shared out to social channels.
Click To Tweet
Improve Your Credibility: Learn To Speak To Your Audience's Needs
One of the most important factors of your blog's success is the amount of value it delivers. Unfortunately, you don't get to decide if the information you provide is valuable. That's up to your audience.
However, if you take advantage of the resources available to you, you can find out in advance what information your audience will find valuable. Learn who your audience is, find out what questions they have, learn to speak their language, then research the best information that tells them what they need to know.
First things first; you need to understand who your audience is. That means you need to create buyer personas that help you identify exactly who you are talking to. A great buyer persona includes all the things your perfect clients will have in common. You want to include any piece of information that might influence their buying decisions, from gender to job description to income bracket. By creating a great set of buyer personas (you should never be limited to one persona), you can really get inside the head of your audience.
The Buyer Persona Institute has a great sample of what a finished persona should look like.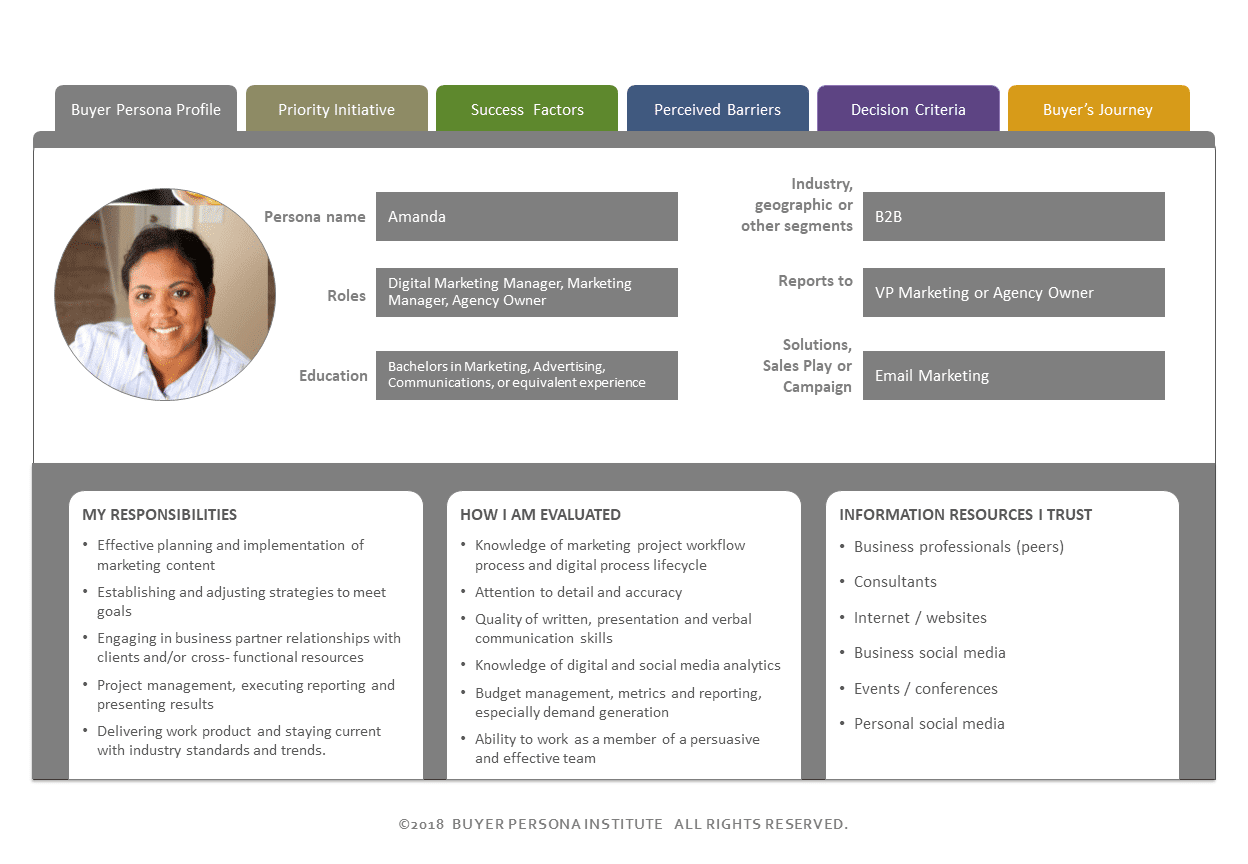 Once you understand your audience, you can take the time to learn what questions they need to be answered. Thankfully, there's a place online that your audience is going to ask those questions. It's called Quora, and it's the place on the internet that people go to get their questions answered by experts.
Quora is a great start, but now you need to expand your understanding. It's time to get a little more information about the people who have already made their way into your funnel. Using your email list and a little automation, you can start asking your leads to provide you a few extra details about themselves. Feed them back into new landing pages that allow tags to be added to their lead profiles. Ask them questions that help identify where they are in the buying cycle. Once you gather this information, you can begin to deliver content tailored to their interests.
How might you do that, though? That's going to depend on how long they've been in communication with you. The person who is visiting your site for the first time is going to be in a different phase of the buying cycle than someone who has been on your list for a while. It might be easier to ask the latter to fill out forms and give you details, but the former might be a little more hesitant.
It's time to institute low-risk incentives to convince your early visitors to share information with you. That's right, we're talking about lead magnets. Lead magnets are pieces of gated content that can be accessed in exchange for contact information. A lead magnet could be anything that extends the value of your blog article. Some ideas you can try:
Offering an eBook
Provide a webinar on a relevant "meta" topic
Create an email course based on your content
Give a checklist
There are so many more ideas for great lead magnets that you can try. After all, you don't have to limit yourself to one. Taking advantage of a variety can often allow you to reach more people, especially at different phases of the buying cycle. Remember, though, that the value you deliver is what's going to make the difference.
The value you deliver is what's going to make the difference.
Click To Tweet
Carefully design your lead magnet with value in mind, putting your client's needs in the spotlight. Consistently ask yourself if the content you're providing in that lead magnet is solving a problem or providing a service for your audience. Remember, value is the key.
Once you've got your offers ready, it's time to optimize your lead funnel. Take a look at how site visitors usually travel through your site, from landing page to the confirmation email. Place the correct calls-to-action at key points in the path to make sure that each visitor is moving down the path from lead to a buyer.
With new information about what matters to your target audience, you can begin to seek out the actual topics you'll be writing about. With all the data you've gathered, including anything you can gather from contact-insight services, you can head to sites like Buzzsumo, Ubersuggest, or Answer the Public, or take advantage of related blog comment sections and Google reviews, to come up with an infinite selection of topics to blog on.
"Kindle" More Blog Traffic Through Your eBook
Forgive me. I couldn't resist the pun.
However, the message is real, and this strategy will produce way more traffic for your blog. It's time for you to publish an ebook. Using smart strategies through the Amazon Kindle platform can drive tons of visitors to your site. Here's the breakdown.
First, you need to publish an ebook that holds real value for your audience. That used to take thousands of dollars and a contract with a large publishing house. No more, though. 31% of Amazon's ebook sales come from self-published authors. That's because we live in an era of technology where the middleman is gone. Thanks to services like Amazon KDP, you can reach thousands with your ebook for free.
You can, in fact, drive direct leads to your blog through an ebook. Like, a few thousand a month.
Click To Tweet
If you're familiar with the Amazon KDP, or you've just taken your first look at it, you might be wondering how that's going to help with your blog. The fact that the answer isn't obvious is why I'm sharing this strategy with you. You can, in fact, drive direct leads to your blog through an ebook. Like, a few thousand a month.
Now you're interested, aren't you?
When you publish your book, you can give Amazon 90 days of exclusivity. In exchange, Amazon is going to put your book in the Kindle Owner's Lending Library. That's a spot where thousands of targeted readers can "borrow" your book and read it for free. That's right. The people you want to visit your website will get your book in their hands. Now we get them to move from the book to your site.
Give them yet another freebie.
That idea might give you pause. Isn't the ebook already free? Haven't I given them enough? But think about it, if they're coming to your site, they're that much closer to becoming a client. How much is that worth?
So how do you pull that off? Kindle allows links inside the book. And, with the right placement, everyone you want to find them will find them. That link will make a free offer that's going to lead them back to your website, where they will exchange information to get that freebie. Remember when your mom told you that nothing good ever came for free?
That value exchange shouldn't ever be a big decision for your site visitors. 77% of B2B buyers are willing to trade basic contact details – like their name and email address – for ebooks and whitepapers. It should be pretty easy to get people on your lead list as long as you have a smart lead funnel.
Here's how you put things to work.
Decide what lead magnet you want to send your ebook's readers to. Build a landing page that sells the benefits of your magnet. Once you know where your readers will be headed and what the path will provide them, it's time to give them the offer.
Page 4 of your ebook – there even before the table of contents – should contain a beautiful call-to-action. Add a message that thanks them for downloading the book by giving them an exclusive free offer. Include in it a text-link and an image link to that landing page. They'll be able to click it and go straight to your site.
Check out this amazing CTA that Steve Scott has in his book How To Discover Best-Selling Nonfiction eBook Ideas.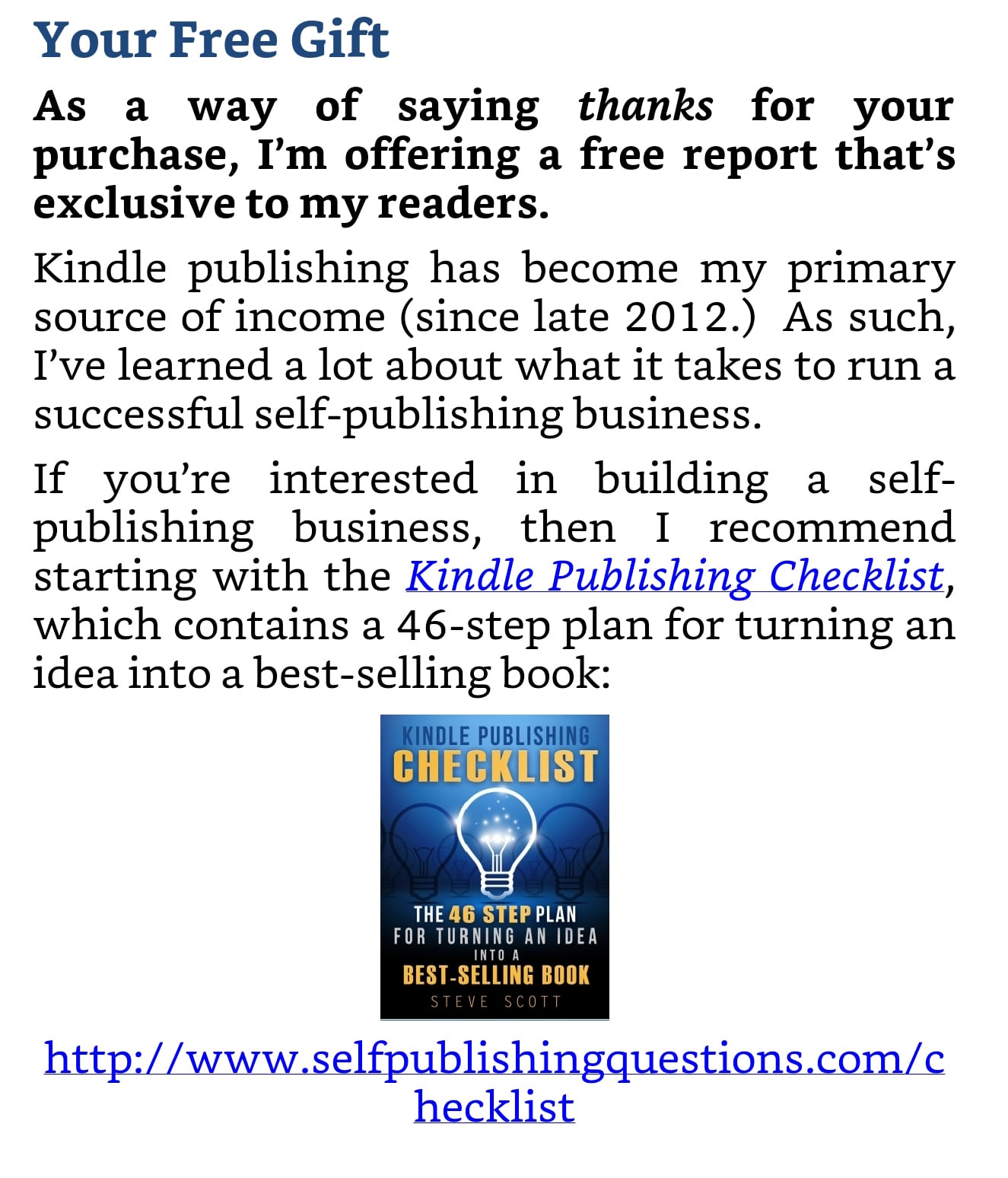 Now you see how an ebook drives traffic. But you may still have a question as to how effective that's going to be. Let me lay out the numbers.
Offering Amazon's "Look Inside" and "Download a Sample" features (which will allow them to see page 4) will deliver 10 new visitors on average for every 30 previews.
If you offer your ebook for free, you can expect about 1000 visitors to your site in about 7 days, and upwards of 6500 visitors per month. Free downloads make your book rank higher, which attracts more search attention.
Some cases, like Chris Guthrie's "How to Make Money as an Amazon Affiliate", have seen as many as 3500 downloads in the first 48 hours. That's going to make more leads than you can imagine.
As long as you start with an ebook that your audience cares about, you can expect to drive tons of traffic.
Create Blog Content That Never Goes Out Of Style
Something important that you need to get out of your blog content is longevity. After all, you're going to invest an average of 3 hours on every article, so long as you're doing the job well. Obviously, in a position where time isn't something you have to waste (if you're like the average small business owner), you need to get the most out of everything you spend it on.
So, clearly, if your content were only good for a couple of days, that wouldn't be worth your time, right?
Let me introduce you to a concept called "evergreen content". It's just what it sounds like. It never wilts, it never dies, and it keeps producing results year after year. It also doesn't take any more time or effort than any other kind of content. Evergreen content simply requires a different focus.
But what topics make good evergreen content? Well, for starters, what content is currently seeing success? That's going to be a great guide to what kind of content you're going to create. Finding content in the niche you serve that has had high social success can give you great information to create your own evergreen content.
Evergreen content is just what it sounds like. It never wilts, it never dies, and it keeps producing results year after year.
Click To Tweet
List posts (like this one) tend to be the best kind of evergreen content. Start by checking those out first. They tend to contain information that doesn't really change. Sure, there might be some minor details that vary year-by-year, but the major information stays fairly static.
As someone who writes about blogging and digital marketing, I search this way often. Let's say I'm researching for an article about blogging (kinda like this one), and I come across this article:
This article is getting tons of engagement online and holds some great information. After reading through it, it's obvious that it's evergreen, too. However, there might be room for improvement. Maybe I have better information, or maybe I can expand on what's there. You'll notice the article isn't very long at only about 1000 words, so I can probably shed more light on the topic. I mean, it may be as simple as bumping up the number of tips.
The first thing you're going to want to do is to figure out how you're going to rewrite the title. Remember, one of the factors that play a role in this article's success is the specific promise it makes. We don't want to get rid of that, but we don't want to copy the title either. But when rewriting, here are some things to remember:
Longer lists offer more information, so people like them better, and are more inclined to read and share them.
For some reason, odd numbers tend to do better than even (ironically coming from an even-numbered post).
80% of people are only going to click your article if your headline is inviting, so don't stray too far from what's working.
Here are some examples of how you could use the example title I gave you and make it better:
Original:
8 Things Blogging Pros do to Get Millions of Views Every Month
Modified, Fresh Headlines:
The 15 Tricks Expert Bloggers Use To Get Unbelievable Traffic Every Month
9 Pro Blogging Tips You Can Use To Get Millions Of Views Every Month
I can't say this enough: don't copy someone else's headline. Let it inspire better ones that speak more clearly to your audience.
This strategy has another benefit: Google. Yeah, the search giant is a big part of creating successful evergreen content. You're going to use it to eliminate search traffic competition. After all, Google search is still the number 1 place you're going to get leads and sales from.
Now that you have this excellent idea, make sure Google hasn't already listed it. Here's how:
Visit Google.
Perform an exact match search on your title (use double quotes "")
Look at the results. You're looking for that "No results found for…" notice at the top.
If there is no competition, you've got an excellent chance to rank well in the SERPs…uh…I mean the Search Engine Results Pages. Yeah, it means you get closer to that coveted page 1 spot.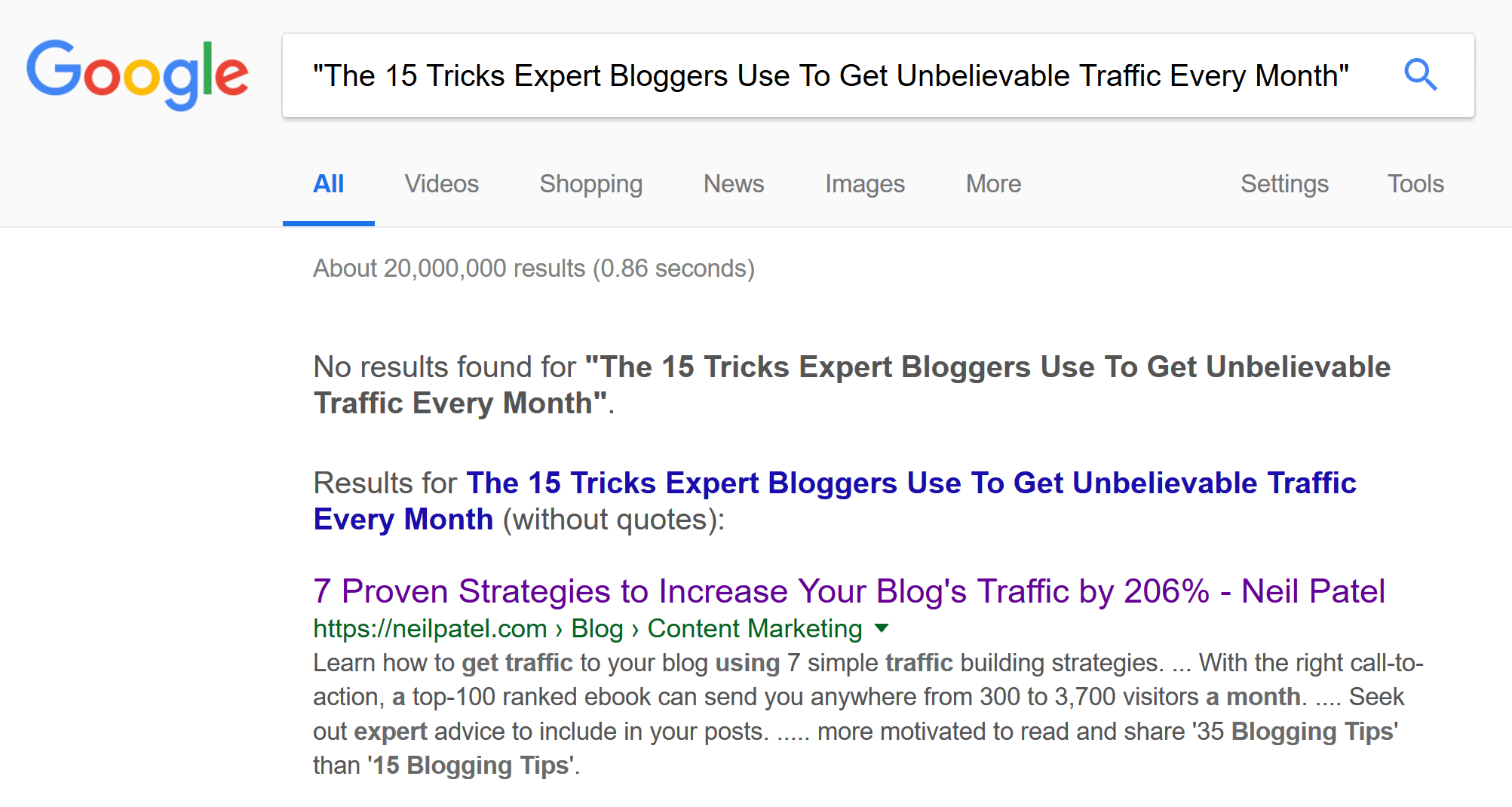 Now that you have an idea to go with, it's time to get writing. But there is zero point in trying to write from nothing. It takes way too long, and leaves you with amateur results. Thankfully there are a ton of copywriting formulas out there, including AIDA, PAS, and FAB, that all work wonders for your articles. Add them to your "swipe file", along with any other tips, tricks, formulas, and templates you come across that demonstrate success and sit well with you.
But with posts exceeding 3000 words, you need a definite system to get that copy correct.
Here's what I do. It's not glamourous or fancy, but it works 1000% of the time, and it speeds up my writing process. Plus, if you have trouble staying on one task through completion like I do, I've built this system to get through that too.
I start with an outline template for my articles. This template takes a copywriting formula similar to AIDA and expands it out. It tells me what each section should contain in it, and what approach I should be taking on every topic. It's a universal style approach, but it helps me lay out what information should make its way into which section. It's also riddled with reminders like "include the keyword at least twice" or "include information about why this advice is golden". That way I'll remember to cover every angle.
Next, I spend time doing research. I look at other blogs with similar topics to what I'm writing, gleaning bits of information and source material from them. After reading a minimum of 10 different articles on the topic, I start my outline. It's time to take those facts and sources and make note of them. I may use them directly, I may imply them, or I may throw them out. Right now, however, I want to make sure I don't lose them.
Once my outline is complete, I'm ready to start writing. Because my outline is directly tied to my content, with every paragraph idea paired with important supporting facts, I can begin to write the article quickly. All I have to do is flesh out the details that go between each important fact, including a dash of my personality and a little bit of personal experience.
What's great about this method is that I don't have to write the whole article in one shot. Because of the notes in my outline, I can bounce around without breaking my chain of ideas. Even though that bouncing slows down my output time, I can still keep a coherent message within my article, allowing me to keep the quality up.
All I have to do is flesh out the details that go between each important fact, including a dash of my personality and a little bit of personal experience.
Click To Tweet
Remember, as long as you write from your perspective and maintain your personality, it's going to be a breeze to find the motivation and enthusiasm to keep writing, even when the topic is a little less boring than you'd prefer.
Drive A Goal With The Backwards Blogging Process
Ok, that's kind of a dumb name, but I couldn't think of a better way to convey exactly what this strategy requires you to do. Unlike the previous strategies that really only focused on gaining traffic, this one is adjustable to the end goal you have in mind. That's because we're going to start with that goal, then design a path that leads straight there.
In this case, we're talking about client action goals, not personal ones. Save the fancy cars and million-dollar-homes for your vision board.
There are 2 kinds of client actions we're talking about:
A purchase is any action that requires the client to spend money with you, either now or in the near future. At some point in this path, the conversation is going to have to turn towards money.
A sign-up is pretty much anything that creates a lead but has no future financial gain for you – directly, anyways. Maybe you're getting people to pledge to a non-profit, follow your social media to build your reputation, or join your mailing list. These paths are going to spend time selling the goal instead of gearing for a transaction.
When you define that goal, you know where every marketing decision you make should be pointing. That helps you gear all your copy and content the right direction. Don't hesitate to choose more than one goal, either. It's not uncommon for a blog to offer many paths to many destinations.
The next step is to build an email funnel that parallels the specific end goal. Example time.
Pretend for a moment that your goal is to get people enrolled in a Facebook Page Growth Master Class. It's super important to first get them on your mailing list, and make sure you send emails that cater to those potential course attendees. Maybe consider a 7-part free series called 7 Key Features of the Most Liked Facebook Pages.
It can be your first product funnel for that list. Over the years, continue to add more as you come up with them. Each course will get sent to your subscribers automatically after sign up. Contain lots of real, tangible, useful information, too. Otherwise, they'll never buy your master class. That's important to remember.
Next, you're gonna need a landing page.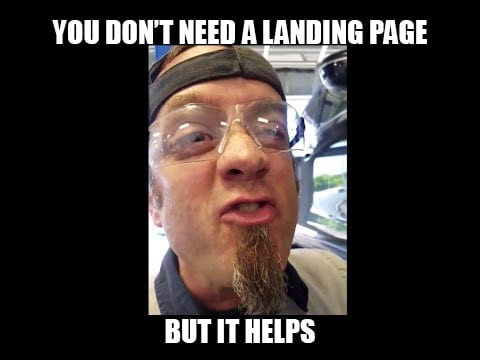 Landing pages are unique pages set up to greet people based on the reason they came to your site. In this case, you need one that's going to explain why they need your 7-part course. It needs to:
Tell your visitors what they'll get from your course
Outlines how your mailing list works and what they can expect (no surprises means they won't flag your emails as spam)
Contain evidence that your course actually works in the form of testimonials and endorsements (if you have none, ask friends/regular readers/customers for honest ones)
Become a feature on your blog in the form of a great CTA
Now you have the right tools to attract the right people. Time to focus on traffic. If you want this to be successful, you need to get traffic that matches your mailing list and offer. Make sure you understand this completely and don't overlook it! It's probably the most important step.
I can't stress enough that every audience is different. Just because someone is interested in learning the ins-and-outs of Facebook doesn't mean they want to grow a business page. You need to target people very specifically.
But how are you gonna find those people? You see, the traffic sources – organic search, blog referrals, PPC ads – aren't specific enough. It's the individual people coming to you that you want to find. The answer? Study your competition.
Check out who is visiting the comments and forums for very closely related websites. Using services like Market Samurai, Ahrefs, or Majestic SEO, you can find out who is backlinking to their successful articles. That's going to help you build a network of sites to check. Find out who their guest posters are, too, because that will give you even more sites.
Take a look at the stuff nobody is thinking of. For example, someone who wants to build a Facebook page following might be checking out marketing blogs and forums often. There is often a less-direct, yet still valuable, connection there.
Now that you have your list of sites, see which ones will allow you to guest post. The more you can get your content to these related sites, the more you'll get people to see it.  When you do get these guest post slots, you must be sure to promote your landing page and email course as often as you can.
But getting a guest post spot can be hard. Like, really hard.
That's why you've got to build connections with other bloggers who can are "above" you and who are "below". Here's what I mean and why you need both.
People who are "above" you have big audiences, popular blogs, and bigger networks. They're the kind of people whose blogs are in your favorites menu and, if you've built the right relationships, they're the kind of people who will give you guest posting opportunities, mentions, and a little mentoring.
People who are "below" you are the bloggers and influencers – and readers – that have you in their favorites bar. They're the ones sharing and engaging with your blog, getting it in front of their networks.
You. Need. Both.
The best way to build that relationship with the bloggers you look up to is to mention them as you answer questions and solve problems. Not just on your site, mind you, but elsewhere too. Like when you answer a question on Quora or LinkedIn or when you comment on another blog. As long as you're being genuine, you'll score big-time points.
The best way to build that relationship with the bloggers you look up to is to mention them as you answer questions and solve problems.
Click To Tweet
When you've found yourself in casual communication with the bloggers you mention, you're now in a position to ask for the opportunity to guest post. When you get one, talk to every damn person who interacts and engages with your article.
That's how you continue building those relationships.
But the specific purpose of guest posting is important to our strategy. Every guest post should:
Get traffic for a long time. Guest spots on successful blogs usually means more search traffic because their site will rank better than yours. Use the keywords you're going to need to get you visible, then put them in well-informed, long-form content.
Promo your upcoming landing page and email course. Be informative, but pique curiosity about the topic your course will cover and the problems it solves. That link to your landing page should get some serious leads.
Improve your relationship with the site owner. If this whole thing were one-sided, you'll lose any future chances of getting a guest spot again. Make sure the site owner sees a huge benefit from the content you create. Go out of your way with this.
Damn, that's complicated. How can you possibly do all that?
Why don't we jump back to your email course? What was it about again? Oh yeah, 7 Key Features of the Most Liked Facebook Pages. Time to parallel that the same way we paralleled your Facebook Page Growth Master Class.
Put together a tactical guest post that's related to your topic. In this case, we might want to do a post on a BuzzFeed style site. Call it 19 Facebook Business Pages That Set The Bar. It's directly related to your course, yet it's still a genius stand-alone article.
You know what kind of social spread articles like that get.
Another way you could tactically post would be to hook up with a popular marketing site. Something like How Sam Drove 5000 Organic Page Likes In A Week would give you a great start for some long-form content, not to mention a ton of attention from your target audience. Added bonus if other bloggers link to your case study.
Make sure the site owner sees a huge benefit from the content you create. Go out of your way with this.
Click To Tweet
As long as you work with that end action in mind, you can keep breaking it down into smaller sub-topics to keep making great guest content. That tactic is going to make sure those guest posts work for a long time and keep them related to the plans you have for tomorrow.
Build Your SEO By Putting You Blog On Pillars
Wow, it's been a lot of information so far, am I right? But if you're still with me, I've got what's quite possibly the most advanced blogging strategy I could share with you. It's based on the Marketing Rule Of 7 and it's focused on forming trust and building familiarity through your blog.
Basically, if you think about each blog article as an ad, and you can get someone to visit your site 7 times and read 7 blog posts, they'll pretty much be ready to buy. If they don't buy, they'll at least open a line of communication.
Where to start, though?
If you've been reading about blogging and SEO for any length of time, you've probably heard of pillar content. It's not a new concept. Let's break it down a bit.
Our blog is about small business marketing. If I wanted to make great pillar content, I would need to break that down into categories, ideally between 5 and 10. My pillar content would be an extra-long-form, mega-resource post for each category. This is the main content I'm going to use to build all my blogs around.
Some pillar content ideas might include:
The 115 Ways To Master [Category]
The Complete [Category] Guide For [Your Audience]
101 [Category] Facts Every [Your Audience] Should Know
How Anyone Can [Category]
Top 123 Expert [Category] Tips For [Your Audience]
Making sure that these are, again, extra-long-form and full of resources will give your blog visitors a reason to trust you. That's what makes you an authority in your industry.
From that pillar content, you're going to expand the knowledge. Each of those pillar articles has pieces of advice within them, and you're going to go deeper on every one of them. These specialty articles are going to make up the bulk of your blog content.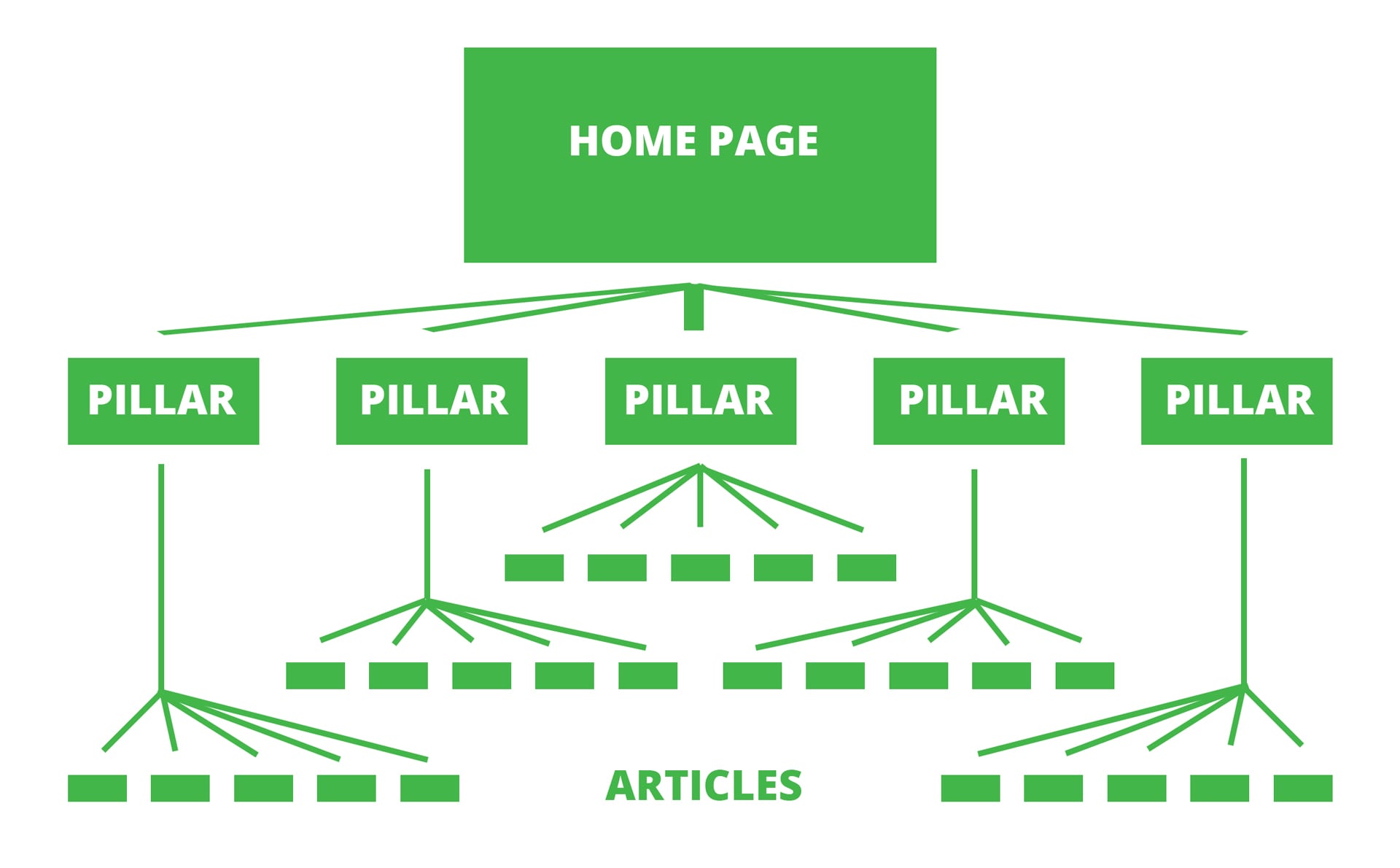 Typically, your pillar content is going to be based around a much higher competition keyword. For example, let's say I wrote a pillar piece called 101 Online Marketing Facts Every Small Business Owner Should Know. "Online Marketing" is a really competitive key phrase, so it's going to be hard to get that ranked well.
However, if I write a long-form article for each of those online marketing facts, they'll have better odds. They're more niche, and the key phrases are longer, which means there are fewer articles competing for the same ones. Traffic score!
Moving forward, understand that internal links on your website are an important part of your SEO, as well as a big part of your ability to keep people on your site. This strategy takes advantage of some next-level interlinking.
Your pillar content combined with your specialty articles has made a decent group of similar, traffic-friendly articles covering specific topics. Chances are the person who is interested in Online Marketing Fact #1 will be interested in at least some of the others, and they'll likely be interested in 101 Online Marketing Facts Every Small Business Owner Should Know.
Considering that, and the goal of getting them to read 7 articles, you've got to think of this interlinking strategy as a lead funnel that drives them to your pillar content. On your pillar content, link out to the specialty articles by adding a link under each tip. Think about the times you've seen a link that says "More Info ->" as you're reading through a blog post.
That's going to make a path that follows their interests. They show up for a specialty article, then explore all the related content on your site. That means they're staying on your site, which drives your engagement score up.
Make a path on your website that follows your visitors' interests.
Click To Tweet
Want to beef that up even more? Squeeze your visitors for information.
If you've done your keyword research and build really valuable content, here's what should be happening:
Your pillar content should see huge traffic because people are always visiting it through the specialty pieces.
Your pillar content will be shared often since it's so informative and your visitors are starting to trust you.
Your pillar's search rank will climb since traffic, social shares, and the inevitable backlinks are showing Google its relevance.
That all makes the perfect storm for signups. See, the email opt-ins at the end of every blog article are great, but if you've made it to my pillar content and through several other articles, you trust me a hell of a lot more. And you're also probably looking to learn a lot more from me.
Use that pillar content to collect emails, either through an embedded form or through a call-to-action that leads them to a squeeze page. That's how you make those visitors into leads.
Like I mentioned before, this is probably the most advanced strategy I have for you. If you do it for every pillar article, you're ultimately creating a mini feedback loop that's going to add value and reinforce the ideas you share. Every time you add to it, that becomes stronger, and so does the trust it builds.
Oh, yeah, there's a search rank bonus too. Did I mention that?
The Smartest Blogging Strategy Of All
Ok, there you go. Six actionable, real, specific strategies you can put to work right now to start making your blog be more of a success. Every one of them can be used by themselves, or in conjunction, to get better results than you're likely seeing today.
It's important to remember the seventh strategy though. Unlike the rest, it's not complicated, and it doesn't take a long time to explain. It's really simple and I can sum it up in just one sentence.
Start blogging now.
That's right. None of these other strategies matter if you don't take the most basic of actions first. Start creating content immediately, using any or all of the six strategies I shared, and you can start growing your digital presence – and your business – now.
Was this post helpful?
Let us know if you liked the post. That's the only way we can improve.